Oh, how I love being woken up at 06:00, especially when I'm in serious need of a kip.  Still, I managed to doze a little until 11:00 when I wandered down to the NAAFI shop for some postcards.  After lunch at 12:30, we sat around waiting for Andy Pandy, as everyo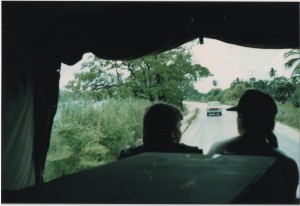 ne calls tour "manager", Andy Muniandy, to turn up.  Half an hour's rough four ton truck ride into Belize City later, we arrived at the Civic Centre – a concrete floor with a tin roof on girders and open sides, normally a basketball stadium.
When we arrived, they were trying to supply us with 220 volts of leccy, instead of the local 110, but unfortunately their method would have blown us up – "We're sending 110 volts down each of the live and neutral and using the earth as a common return"; "Um, no you're not!" – so we sent back to APC for a generator, which didn't arrive until 18:45.  Belize Radio was supposed to be broadcasting live from 19:30, having interviewed Eric and Ian (plus Jerry and Simon) in the morning.  The chaos was compounded by the arrival of several unbooked acts, with the result that we only played one track – Still Life – for the radio.  By the time we got back on stage, it was 22:30, and we played just another five numbers.
Then followed one of the most bizarre experiences I can recall: we'd agreed with Cat 'n Fiddle that we'd do a joint version of Whiskey In The Jar every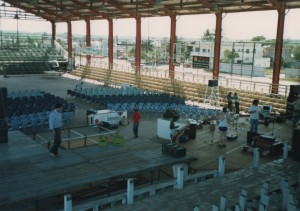 night, so we made our first attempt, as a torrential rainstorm whipped horizontally through the open sides of the stadium.  One by one, people downed their instruments and walked off, keen to avoid electrocution, and I joined them when I started to feel a fizzing sensation from the mic on its stand.  Immediately after this, Andy Pandy and Simon had a massive row, culminating in Andy telling Simon he was sending him home tomorrow.  This, the sheer bulk of equipment and the awful roads meant that we returned to APC at 01:10.
Setlist – Radio:
Still Life
Setlist – Gig:
Johnny B Goode
Yesterdays
You Really Got Me
Young, Free & Simple
Pack Of Lies
Whiskey In The Jar (with Cat 'n Fiddle)