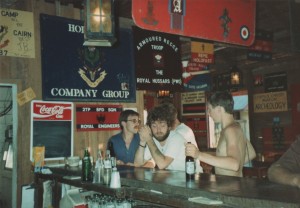 Awoke at 10:30 to be ushered into a "crisis" meeting with Andy Pandy, who's so pissed off he wants to cancel the whole thing.  Amidst tears and unintelligible recriminations, we told him where to go and Eric and Robbie now have stage and transport responsibilities.  After lunch, it was back in the four-tonner for the three hour drive to Holdfast Camp in Cayo, stopping for a beer on the way.  Here we divided the PA into smaller units, set one up and drove into the local town, St Ignatio, where we were to play the first of our two gigs for the day.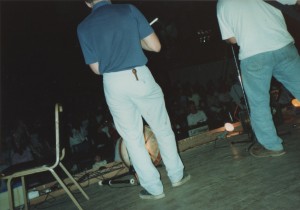 The large, semi-open cinema was quite full when the show finally started, 25 minutes late at 19:25 (bravo, Eric the stage manager).  We closed the show with a 30-minute set which went down quite well with the local audience.  As the band played "Green Onions", I dismantled the PA (this is the only reason we played Green Onions, I can assure you 😉 ) and shouted "Goodnight and thank you!" at the end.  Then it was off at sixty-odd miles an hour to Holdfast, where Cat 'n Fiddle were just starting their set.  We did a short set and then bowed to the main attraction of the evening – a Gurkha in drag!  Fortunately the audience saw sense and dragged us back on to close the show.
For added entertainment, three of the Leonar Dance Group came and strutted their stuff on stage with us and various Gurkhas paid to dance with them.  I think one went a little too far, as the girls all suddenly fled from the stage,  We then broke down all the gear and discussed whether we were going down to some seedy dive in the town to jam with the best in Belizean music, a band call The Messengers.  Johnny and I decided that sleeping in the guard room would be going a little too far, so we jumped in the four-tonner and came back to APC.
Setlist – St Ignatio:
Johnny B Goode
Still Life
Saviours
Black Magic Woman
Yesterdays
Pack Of Lies
Green Onions
Setlist – Holdfast I:
Johnny B Goode
Inhibitions
Hot Dog
Talking For Free
Setlist – Holdfast II:
Pack Of Lies
Still Life
Yesterdays
Note: you'll notice how these setlists change over the tour. We'd only learned the covers included to give the punters something to "latch onto". As the tour progressed, we gradually dropped most of them and just did our own thing.