Absolutely nothing happened today, other than lunch, until 14:30 when we wandered down through the camp to the heliport to await our chopper to Rideau Camp in the jungle on Belize's southern border. The Puma was awsome ad the Flight Sergeant awkward as he insisted that everyone had a long-sleeved shirt and proper trousers on before we were allowed to board; in the end this entailed a squaddie, flying with us, lending half the troupe various items of clothing.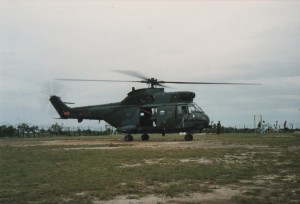 The flight was interesting, especially the bit where visibility became so poor in a rainstorm that the crew turned the craft 90 degrees and headed a mile or so out to sea. It was another two-gig day, so we headed into Punta Gorda town at about 18:00 to set up for the civvy gig. The show opened with an excruciatingly painful rendition of the national anthem (Belizean, that is) by a tone deaf, twenty stone matron and continued with various local 'talent' until we closed the show (after Eric had mended his keyboard rig, whilst the rest of us played Republican Banana).
Then it was off to Rideau, smuggling half a dozen black 'dudes' in with us, where we went down well, closely followed by a charity head shaving competitio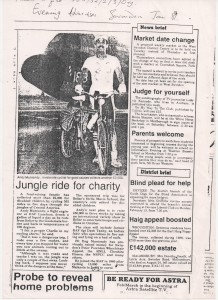 n. For some strange reason Ian disappeared at this point! At a quarter to one when the fun finally ended – one P.S.A. guy from Llantrisant having got out of the head shaving by playing Silver Machine with us – the squaddies opened their bar for us for an hour or so. Then I spent a quarter of an hour with the head-shaving compere looking for a place to crash. I thought I was going to have to sleep in the bar but eventually I found a bunk.
Note: all of these diary entries were tailored to fit a page of handwritten A4 in the book I was using. This particular entry is missing a couple of details: firstly, Wolfgang Amadeus Bastard kicking me in the back, causing me to dive off the front of the stage during sound-check; entirely my own fault for choosing to test the mic with "Jungle, welcome to the jungle, it's gonna bring you to your…"; secondly, when I say I eventually found a bunk, I'm missing out the hour sleeping with the huge spiders on the floor of the bar!
Setlist – Punta Gorda:
Johnny B Goode
Republican Banana
Still Life
Pack Of Lies
Saviours
Black Magic Woman
Setlist – Rideau:
Johnny B Goode
Paranoid
Pack Of Lies
Inhibitions
Hot Dog
The Right Stuff
Silver Machine
Yesterdays
You Really Got Me